Weezer Reveals The Surprising Theme of The 'Black Album' & More Details
Weezer's Black Album has finally arrived.
Over the last few years, fans have been waiting for the Black Album to be released ever since the band's Rivers Cuomo subtly teased the LP after releasing the White Album in 2016. Since then, the band released their Grammy-nominated Pacific Daydream and Teal Album, which features their popular "Africa" cover, as well as other covers of songs from artists including TLC, Black Sabbath and more.
The Black Album is Weezer's 13th studio album and features lead single "Can't Knock The Hustle," and songs like "Zombie Bastards," "High as a Kite" and "Living In L.A."
Weezer knew that they were going to make the Black Album right after they released the White Album, and tell iHeartRadio, "It didn't really start to take form and take off until we met Dave Sitek, the producer, and that's when everything really clicked. He's just an exciting guy to be around and all the songs came very quickly."
A few years ago, while teasing the Black Album during an interview, Cuomo described that the record could be "Beach Boys gone bad." And when asked if that description still holds true, he told us, "No. I think it's definitely dark, but I think we lost the Beach Boys a bit and it's definitely more influenced by Kanye [West], as well as, like, 90s Beck and Beastie Boys and then some shoegaze guitar that was thrown in the mix. My Bloody Valentine."
All of the songs on the Black Album were written/co-written by Rivers, who explains that one of the main themes of this album is drugs — but don't get it twisted, because Cuomo does not do drugs. However, the album is written from someone else's perspective. He tells us, "I guess one of the main themes on the album is drugs, which is strange because I don't do drugs. But the producer, Dave, does a lot of drugs. So, it's just kind of hanging around him and seeing what he was into, and it was just so hilarious, and weird, and inspiring. So, I wrote from his perspective as like this crazy person, and it's a lot of fun for me to step into his shoes."
Cuomo adds, "As a songwriter, I feel like these days I'm more like a portrait painter. Like I'm bored of writing about myself, so I just like to study somebody else and write from their perspective. And that's how I get inspired."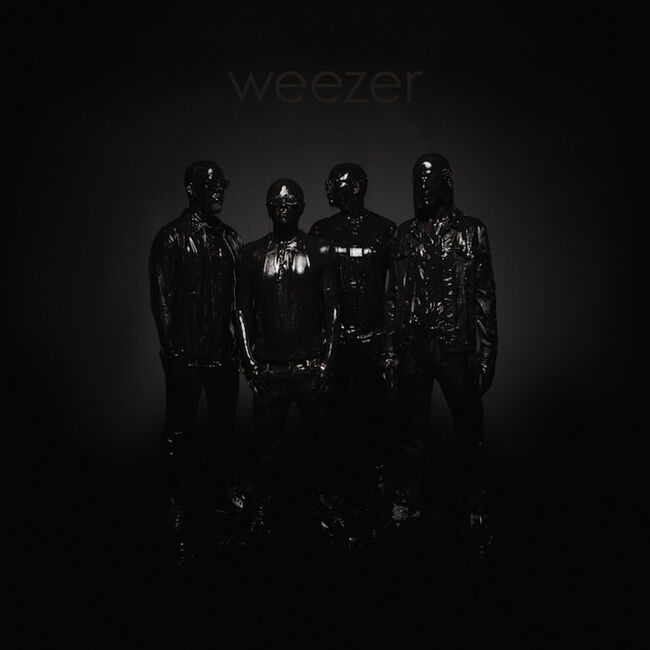 Weezer is currently on tour supporting the Black Album, along with The Pixies, and a goal that the band keeps in mind with any album is to create at least one big song the crowd will definitely want to hear at a show. Rivers says he doesn't know if they have one of those on their new release, however, it could be "Can't Knock The Hustle" or "High As A Kite." He explains, "My goal is to always end up with at least one song on an album that gets really big so that when we go to play these big arena shows, everyone there wants to hear it. We have so many big songs now that it's hard to break new songs into the set list. So, I don't know if we've achieved that with the Black Album. I guess it depends on the show. We play all different kinds of shows. Sometimes we play at small clubs and those fans wanna hear a different set list than if we're playing a big show like [iHeartRadio] Alter Ego. So, depending on the crowd, I'd say maybe from the Black Album, 'Can't Knock The Hustle' would be a good crowd pleaser or maybe 'High As A Kite.'"
Bell adds, "I think a good fan favorite for this Black Album was gonna be 'I'm Just Being Honest.' [It] sounds very traditional Weezer-y [and ] what I think that they wanna hear."
Speaking of "Can't Knock The Hustle," it was the first song that the band shared off of the Black Album, and comes with a hilarious music video starring Fall Out Boy's Pete Wentz as "Rivers Wentz," a very patient Uber driver. And while the video is inspired by the "five star review" lyric, the visual was actually meant for another song. Bell explained it was going to be the video for a song that was supposed to be on the Black Album, but didn't make it, while Cuomo recalls that it was also going to be the visual for "Happy Hour" from Pacific Daydream. Brian concludes, "It honestly it works best for 'Can't Knock The Hustle' because it's about an Uber driver and the 'five star review line' is in there and it seems to work."
As Weezer has released three albums over the last two years, if you can believe it, there is plenty more on the way as the band is working on two more albums, with one almost done already. One of the albums, tentatively called Okay Human, is full of piano-based songs while their other album is more guitar heavy and called Van Weezer. Rivers explains:
"We're touring with The Pixies, supporting the Black Album and then we got one more album almost done, tentatively called Okay Human, which is like piano-based songs, but with a lot of orchestration. We just did the strings at Abbey Road, and it's very beautiful and melodic. And as we're doing that, we got interested in like heavy guitar rock again, so we started an album called Van Weezer, and that should also be done this year. And we're gearing up towards a big stadium rock type tour. I shouldn't say anything about it, but we're gonna need some songs that would kill in that environment, so we're doing our best."